Brian McKnight Concert Reviews
Sept. 15, 2006 - Brian McKnight @ Las Vegas, NV, Texas Station Casino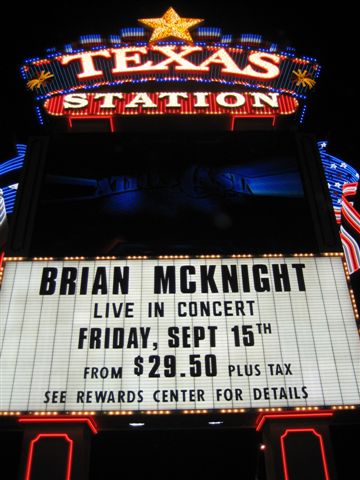 Brian was great (as usual), and the real highlight for me was seeing him before the concert at the M&G again and catching up with him in person. It's been a few years since we last hooked up. I was in the lineup to meet up with B, and when I turned around there he was with his big smile and friendliness and gave me a big hug and handshake. It all felt like family, a good friend and the band was like family, I haven't seen for a while.

I'm so proud to see all the great things Brian's accomplished over the past few years, and it makes me proud to support him. Brian's just a good person, overall, and he's got such a good heart, really appreciating long time supporters as well as new fans as well.

I finally met Jay in person, she was so friendly and warm! Thank you J for bringing the Backseat envelope / fan package for me, it was much appreciated!! Thanks also for all the photos together and for taking the time to listen and share your updates on what's new with Brian, the website, and plans. The M&G worked out well and it was well organized too.

My friends Nate, Zulema and I had a great time, and B and the band were stylin' like usual.

It was great having a chance to talk to Prescott and Chris too before the show to let them know they're appreciated too.. it takes a band with synergy to really put on a good show and Brian's fortunate to have an excellent team of talented musicians that also care about him too.

I didn't want to post too much detail about the show to keep some elements of the show a surprise for those of you who may not have seen him yet. It's more than likely though that the concert you'll be seeing from here on in will be a new concert layout promoting the new "10" album however.

Let's just say that a 1.5 hour or 2 hour concert to try and cover all of Brian's hits would be a difficult task because there's just too many good ones he could perform. B really made it a show with audience participation, and of course those awesome vocals.... especially with his trademark One Last Cry... Can't wait to see him at the concert promoting the new CD, "Ten".

--------------------------------------------------------------------------------------------------------------------------
" An Evening with Brian McKnight in Review " (Superhero Concert)
by Tracy Justice-Clark
There are so many ways to describe the talented artist Brian McKnight.singer, songwriter, producer, and the king of romantic melodies; however, after seeing him live in concert, there is only one phrase that comes to mind.singer extraordinaire!
I attended "B's" concert, "An Evening with Brian McKnight" on January 17, 2002 in Charlotte, NC. The show was absolutely amazing, Brian was filled with incredible energy and his voice was completely breathtaking! He performed his entire chart topping hits for two hours, singing each song as though it was his first.
The show began with a video clip featuring "the superhero prelude" music and a storyline that showed Brian's determination, willpower and strength. He then emerged on stage with his guitar in hand and a motorcycle in the background, appropriately singing "Superhero". The crowd welcomed him with cheerfulness and roared with exhilarating energy as Brian continued with his upbeat hits, like "You Should Be Mine" and "On the Down Low". As the night progressed, the mood changed and Brian began singing his incomparable ballets that included songs like; "Get Over You", "Biggest Part of Me", "Still", "6, 8, 12", "Stay", "Crazy Love", "Every Beat of My Heart", "Only One for Me", "Cherish" and many others. However, prior to performing "When You Wanna Come", Brian took a few moments to talk to the fellas about.well, you know. He then asked Sly to pick a girl from the audience for the performance of "Love of My Life". This selection gave Brian the opportunity to show his sensitive and romantic side to the audience. He was a complete gentleman, as he danced with the lucky lady, presented her with roses and led her to a red velvet chair surrounded by countless burning candles. He then ended the song by giving the lucky lady a kiss on the check: very sweet, indeed.
In the next segment of the concert, Brian demonstrated his magnificent piano skills by playing a jazzy session that led into his song "What's it Gonna be". He also performed several acoustic selections with just his guitar, as seen in his video/dvd "Brian McKnight-Music In High Places" (recorded in Sao Luis, Brazil). Once again proving his status as a musical genius.
Nevertheless, the most magically and thrilling part of the show for me occurred during the performance of "Anytime". The lights went down, the music began and I heard the tantalizing voice of Brian, but I did not see him on stage. All of a sudden, I heard I loud roar from the back of the auditorium. When I looked back, I got a huge surprise.Brian was walking down my row singing one of my favorite songs and I was so fortunate to have an aisle seat near the front of the stage. I tried to remain calm, but I screamed because I couldn't believe what was happening. Brian smiled at me and sort of giggled because I was so anxious as he approached me. Finally, he was directly in front of me, so I reached out and hugged him. I was so happy and so overwhelmed with emotions that my eyes glazed and I cried tears of joy. After the song was over and Brian was back on stage, I could not help but reflect on my 5 seconds of fame. Why didn't I say something to him? So, being a huge fan, I went to the front of the stage and patiently waited while "B" ended the show with "One Last Cry" then "Back at One". Luckily, I was able to shake his hand and I said, "I want you to know that I am your biggest fan!" He graciously smiled and said, "Thank you".
In closing, all I can say is wow, what a wonderful experience and a dream come true! Thanks Brian for everything! I hope you will have the opportunity to read this review and e-mail me with your thoughts. I would also like to thank Winston for allowing me to share my Brian McKnight experience with the world.
Briansnumberonefan,
Tracy Justice-Clark
Superhero Tour Concert Photos - Found on the Web (Added December 9, 2001)





















My Backstage Photos - Las Vegas Paris Hotel - November 2, 2001