Brian McKnight Biographies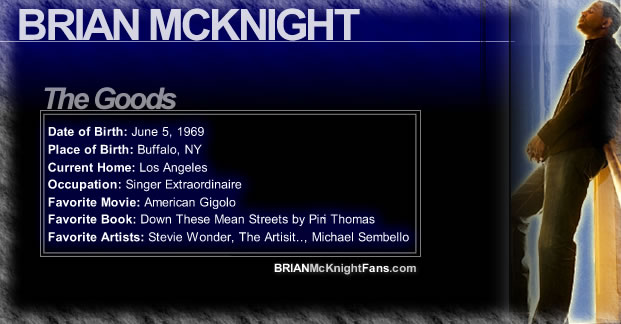 Biography #1
(Source: Craig Lytle - All Music Guide)
Brian McKnight grew up in a family where music came naturally. He was a member of the church choir along with his immediate family; his grandfather was the director. With a gospel upbringing, McKnight explored other genres of music. Still in his early teens, he exercised his writing ambitions by penning instrumentals (soft jazz, easy listening). He formed a band and began performing his originals at local venues. By the age of 18, McKnight had secured a publishing deal. His calling to the national scene manifested itself when his older brother Claude and the group he was a member of, Take 6, signed a recording contract with a major label.

After sending out numerous demos to various record companies, McKnight's tape drew the interest of Mercury Records president Ed Eckstine (son of Billy Eckstine). Eckstine was so impressed with McKnight's sound that the young artist was signed to a deal within two weeks. McKnight's first release on Mercury was "The Way Love Goes," peaking at number 11 after 19 weeks on the Billboard R&B charts. His two follow-up singles barely cracked the Billboard R&B Top 60, including "Love Is," a duet with Vanessa Williams featured on Beverly Hills 90210. Ironically, that single peaked at number three on the Billboard pop charts, introducing McKnight to a crossover audience.

In addition to being a singer, McKnight is a songwriter, multi-talented musician, arranger, and producer. The success he has achieved as producer and songwriter on his own projects has facilitated his popularity as a producer and songwriter for other artists. However, the Buffalo native retained the services of hip-hop producer Sean "Puffy" Combs on the release of his 1997 CD Anytime, which features the club-flavored single "You Should Be Mine." A Christmas album, Bethlehem, followed in 1998, and a year later McKnight returned with Back at One. Superhero from 2001 kicked off with the surprisingly rock title track while 2003's U Turn was a fairly straightforward and ballad-filled affair. A divorce and some time playing guard for the California ABA basketball team the Ontario Warriors kept McKnight out of the musical picture for a couple years before the lush Gemini from 2005 marked his return. ~ Craig Lytle, All Music Guide
Written by Craig Lytle
Biography #2
(Source: Wikipedia 2006)
Brian McKnight (born June 5 , 1969 in Buffalo , New York ) is an American singer , songwriter , arranger, producer and one of the prominent singers of his years, specializing in pop and R&B . He is a multi-instrumentalist and plays the piano , guitar , and trumpet .
McKnight's musical career was spurred by a musical childhood, in which he was a member of the church choir and a bandleader in high school at Sweet Home High School in Amherst, NY . Encouraged by his older brother Claude's band Take 6 getting a record deal, McKnight sent out demo tapes and, at the age of 19, signed his first recording deal with Mercury Records . He released his first album, Brian McKnight , in 1992 , I Remember You (his sophomore album) in 1995, and his third and final album for Mercury, 1997 's Anytime . It sold over two million copies.
Moving to the Motown label, McKnight continued his successful career. His 1999 Back at One album sold over three million copies, and he has collaborated with such musical personalities as Mase , Sean "Puffy" Combs , Mary J. Blige , Vanessa Williams , For Real , Mariah Carey , Regine Velasquez , Boyz II Men , Christina Aguilera and Quincy Jones . McKnight's latest album, Gemini , was released on February 8 , 2005 .
McKnight has two children and currently lives in Los Angeles, California .
Biography #3
(Source: http://www.coasttocoasttickets.com/concerts/brianmcknight_article.shtml)

Like many musicians today, Brian McKnight grew up surrounded by music. Along with his immediate family, he was a member of the church choir, directed by his grandfather. His gospel upbringing would later be an influence on his music. He began composing songs in his early teens, practicing with soft jazz and easy listening instrumentals. He formed a band during high school and played his original songs at local venues. McKnight had a publishing deal by the age of 18, but his big break came from his relationship with his brother whose band, Take 6, signed a recording contract with a major label.

McKnight always knew that music was his passion, so when he was expelled from Oakwood College in Huntsville, Alabama he took it as a sign to concentrate more on furthering his musical career. With his brother's recommendations, McKnight sent out many demos to various record companies. The tape caught the attention of Mercury Records president Ed Eckstine, who signed McKnight within two weeks. Soon McKnight released his first album of original music on Mercury Records. The self-titled album included two hit singles, "The Way Love Goes" and "Love Is", and struck it big on the charts, especially for an unknown young artist. It peaked at number eleven after 19 weeks on the Billboard R&B charts. Both singles made it into the top 60 on the R&B Billboard charts. "Love Is" was a duet with Vanessa Williams that was later featured on the hit show Beverly Hills 90210. Another single from the debut album, "Never Felt This Way", was remade by Alicia Keys and appears on her Grammy Award winning album, Songs in A Minor.

Brian McKnight, in addition to writing, arranging, and singing, produced many of his own songs. The popularity and success of his self-produced music soon gained him a reputation with other artists. He still looked to other artists and producers for guidance in his music. He asked friend and producer Sean "Puffy" Combs to produce his 1997 release Anytime, which featured a popular dance single "You Should Be Mine". The title single also hit it big. In 1998 McKnight's Christmas album, Bethlehem, brought back his gospel roots and pleased many fans. The following year he released Back at One, to much acclaim from fans and critic.

Much to the surprise of fans, Brian McKnight paired up with NSYNC's Justin Timberlake on his 2001 album Superhero. The album featured McKnight's thrilling guitar rifts. The following year McKnight had accumulated enough hits to release a compilation album. From Here To Here: 1989-2002 featured a collection of his greatest hits from the very beginning of his musical career. McKnight was again ready in 2003 to release a new album full of his original material. U-Turn was the product of his labors in 2003. At this point in his career McKnight had sold over 15 million records and was one of the most successful and beloved R&B artists of his generation. In addition to his success with studio albums, McKnight's touring career also brought fans and media attention. Tickets to his shows are still a hot commodity for R&B fans everywhere.