Tidbits & Bonuses / Flash
Brian's Evolution of a Man - CD Preview from ReverbNation Jukebox Player - Dec. 2010

To listen to a full song sample of Brian's latest CD, check out the Jukebox below.
If you like what you hear, you can buy Brian's full CD at:
Amazon.com - Evolution of a Man - Evolution of a Man
iTunes.com - Evolution of Man - Brian Mcknight

Brian McKnight - Tidbits & Bonuses
Shown below is the alternate intro flash page for this website FYI .
Special thanks to my friend Andrej for the awesome artwork and flash work!
===================================================================
This month's bonus is a Flash Movie that I created as a tribute to Brian's Superhero tour.
I've named it, "Brian McKnight in 90 seconds"

Click Brian's Photo below to Download and View the Flash Movie:
To view it you'll need the Flash Plug-in for your browser. >> Flash Plug-in
Movie Version 1.3 Release Notes:
It's a fairly big Flash file (1.2 Megs) so you will need a fast internet connection to view it properly (ideally cable or ISDN) and also a fairly fast computer (ideally a Pentium III or above with 128 Megs of Ram and a CPU speed of 1.0GHz is preferred). Download time for a cable connection will only take less than 30 seconds, but if you have a dial-up connection it may take a few minutes.
I hope you enjoy this tribute and let me know what you think!
Enjoy!
Winst
January 9, 2002
This month's bonus is a Flash Movie Tribute to Brian's Five (5) Grammy Nominations. The file size is relatively small this time at 297K and you will need the Flash plug-in for your web browser to see the movie.
Click the image below to view my Brian McKnight Theatre: "A Grammy Nomination Tribute for 2002"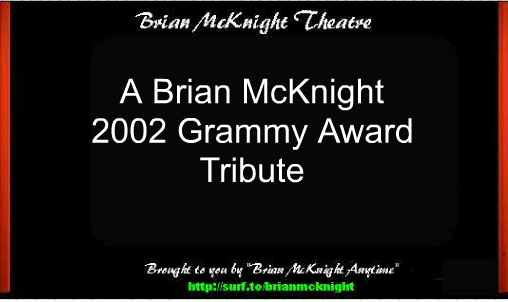 Watch the movie (click the image above) or >>> click here <<<
Need the Flash Plug in? >>> Download it here <<<
December 2001
This month's bonus is a Flash Advertisement that I created to promote Brian's new "Music in High Places" DVD.
A spectacular performance with Brian and his crew performing live in Brazil. Including a full 1/2 hour long interview with Brian McKnight and special features allowing you to view the music videos only, or watch the whole DVD. A must have for big Brian McKnight fans!
If you click on the CD covers on the flash movie it will jump to the appropriate link at CD Now so you can see a full track listing of his CD's and from there you can listen to song samples of his tracks.
As well, if you click on the words "Brian McKnight" at the top you will be linked to the official Brian McKnight website. I hope you enjoy this month's Bonus!
Cheers, Winston

Click Here or on the DVD cover above to watch the short Flash Advertisement for Music in High Places